Located in the market town of Turriff, nestling in the North East corner of Scotland, we are lucky to be within close fishing distance of three beautiful rivers, The Deveron, the Spey and the Dee. Fishing is a passion shared by almost 20% of the UK population and it is still a growing leisure pursuit, suitable for all ages from the early beginner to the seasoned angler.

We are also surrounded by some of the best terrain for country sports. Choose from rolling hills and farmland to grouse moorland and woodland to shoot deer, pheasant, partridge and duck. If you prefer, we offer excellent opportunities and coaching for clay pigeon shooting.
With our wide range of accessories and all the necessary equipment and clothing to keep you warm and dry and looking the part, Henderson's aim to ensure you have the ultimate sporting experience.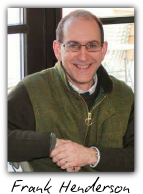 If you require further information we are only a phone call or email away, so please do get in touch, we are only too happy to help you.

At Henderson's, we pride ourselves in our high level of knowledge and expertise. We provide a wide range of products from leading manufacturers and suppliers for all, from the experienced game angler and shooter to the occasional country sport enthusiast. We are passionate about enhancing our customer's experience and enjoyment in country sporting activities. - Frank Henderson